Regional Bank Crisis Spreads To Big Banks
Stocks Dump Amid Widespread Liquidations
The slide comes as prominent investors including hedge fund billionaire Bill Ackman warn that stresses on the banking system are far from over.
Meanwhile, with the Fed still clearly ignoring what is shaping up as an epic bank crisis.
Update (10:50am):  Moments after the FT report which sent WAL shared plunging to $11 (after closing at $30 yesterday), the company rushed out a press release to announce that the FT article is "absolutely false"
Western Alliance Bancorporation ("Western Alliance" or the "Bank") (NYSE: WAL), the holding company for Western Alliance Bank, today issued the following statement in response to an article published by the Financial Times.

The Financial Times' report today that Western Alliance is considering a potential sale of all or part of its business is categorically false in all respects. There is not a single element of the article that is true. Western Alliance is not exploring a sale, nor has it hired an advisor to explore strategic options.

It is shameful and irresponsible that the Financial Times has allowed itself to be used as an instrument of short sellers and as a conduit for spreading false narratives about a financially sound and profitable bank.

We are considering all of our legal options in response to today's article.
For its part, the FT also did an on brand "update" to its article: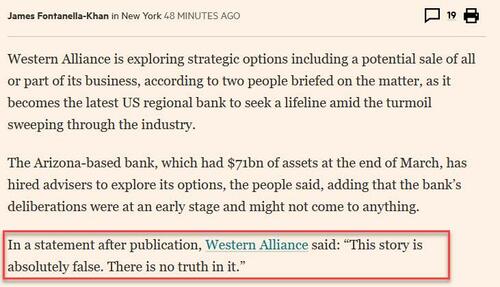 While the stock managed to bounce modestly, rising to $18 before getting halted again, we doubt this will help much as the bank run is now in full swing. After all, how is the thinking supposed to go: "Oh, so the story was false, let me quickly undo that deposit withdrawal i just made"
* * *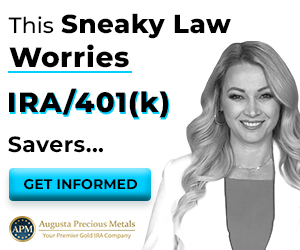 Update (10:30am): it's just getting worse and worse:
*PACWEST SHARES HALTED AFTER EXTENDING ROUT TO 52%
*KBW BANK INDEX DOWN AS MUCH AS 5.5% TO LOWEST SINCE SEPT. 2020
*S&P 500 FALLS 1% TO LOWEST INTRADAY SINCE MARCH 30
And now Western Alliance has joined the collapse…
*WESTERN ALLIANCE RESUMES, EXTENDS SLUMP TO 45%, HALTED AGAIN
After an FT report said that it too, like PacWest, is exploring strategic options including a potential sale of all or part of its business. Citing two sources, the FT notes that the bank has hired advisers to explore its options and adds that deliberations are at an early stage, although at this rate, there won't be much to deliberate in a few short hours when the bank is out of all deposits.
* * *
Earlier
Two days ago, on May 2, in the aftermath of the FRC take-under by JPM which Jamie Dimon praised (of course) as a deal proving that the "system works as it should", and predicted that the bank crisis is now almost over, a forecast which the Fed chair reiterated yesterday (just before all hell broke loose), we warned that the "banking crisis is baaaack" for the simple reason that by bailing out FRC, up to $75 billion in Fed reserves would be drained from the system pushing small banks back to their reserve constraint and forcing another market puke and/or Fed bailout.
oh the irony: FRC take under by JPM (funded by the FDIC/US taxpayers) drained $75bn in reserves. And we are right back on the reserve constraint critical threshold. Hence the banking crisis is baaaaack https://t.co/EvbkxvkOct

— zerohedge (@zerohedge) May 2, 2023
And as events less than 24 hours later proved conclusively, we were again right.
Early this morning, after its stock crashed as much as 60% and falling to a record low in the afterhours session following a Bloomberg report that it was seeking to sell itself or raise capital and sparking concerns that it was the next insolvent bank, California's  PacWest Bancorp (it's always a California bank for some odd reason), confirmed that it was indeed in talks with several potential investors, and said core deposits have increased since March in a desperate attempt to calm markets after the stock rout made it the new focal point of concern over the health of US regional lenders.
"The bank has not experienced out-of-the-ordinary deposit flows following the sale of First Republic Bank and other news," PacWest said in a statement after the stock's post-market plunge. "Our cash and available liquidity remains solid and exceeded our uninsured deposits."
Sadly for PACW, in a world where a bank bringing attention to its balance sheet only invites bear raids and massive shorting, the bank failed to rebound and this morning it plunged as much as 48%, after being halted twice, and was last trading down 42%.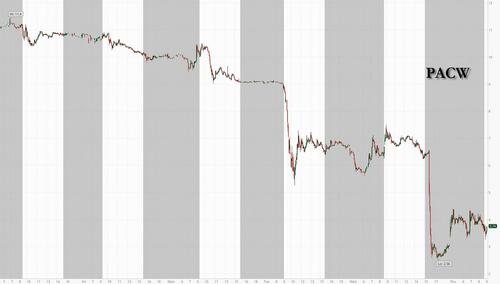 And now that small, "western" banks are once again under the microscope, the regional bank turmoil is – just as we predicted – "baaaack", and is hitting banks both small such as Western Alliance, which is down 24%…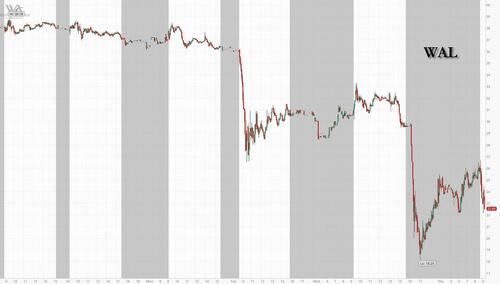 … as well as much buyer banks, such as US Bancorp, which this morning is down as much as 8% dropping …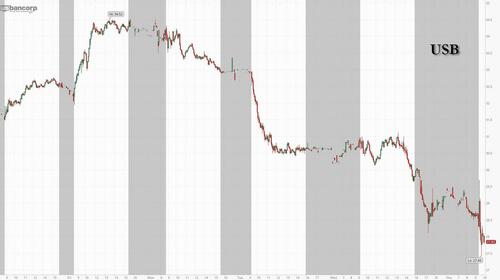 … and which actually is no longer just a small bank with over $682 billion in assets, over $500 billion in deposits and almost $400 billion in loans…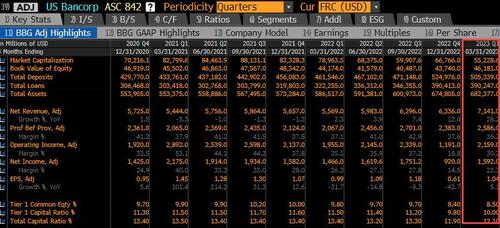 … thus threatening to bring what was until now purely a regional bank crisis to the echelon of larger banks. But for now this remains almost exclusively a small/regional bank crisis – as we warned it would be back on March 8 largely due to their commercial real estate exposure – and the KRE index is plunging another 6% this morning, dragging it to the lowest level since October 2020.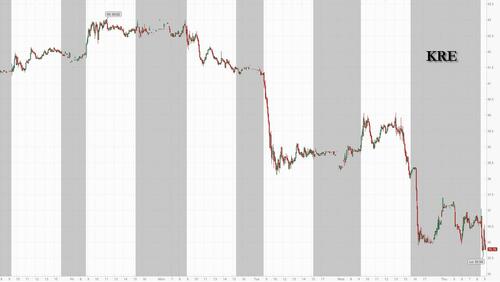 Earlier we reported that First Horizon tumbled as much as 40% after saying it and Toronto-Dominion Bank mutually agreed to terminate their merger agreement amid uncertainty around regulatory approvals.
Meanwhile, with the Fed still clearly ignoring what is shaping up as an epic bank crisis – or perhaps stoking it as some cynics have pointed out, suggesting it is Powell's hope that a cascade of failing banks will make the Fed's job of sparking a recession, credit crisis and deflationary bust easier…
The Fed's new policy of "monetary tightening by bank failure" is certain to have a very happy ending

— zerohedge (@zerohedge) April 28, 2023
… traders everywhere are selling anything that isn't nailed down, and following last night's bizarre flash crash in oil, they have brought the liquidation to the S&P which is down 0.9% this morning in another broad-based selloff…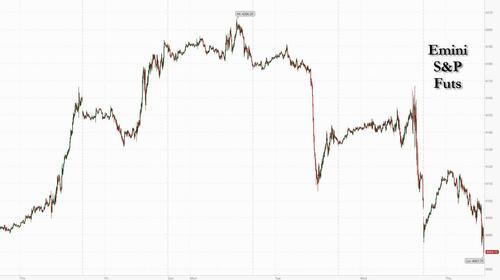 … as the VIX spikes above 20, and 10Y yields tumble while gold continues to trade just shy of its all time high.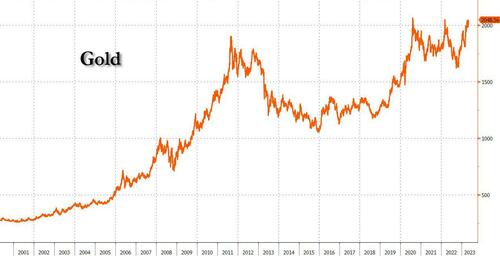 Meanwhile, what we warned earlier this week may not have registered at the Fed just yet, but its former staffers are finally admitting that it is indeed the case: "The acute phase of bank turmoil may not be over, and policymakers need urgently to recognize that," said Krishna Guha at Evercore, and former manager at the NY Fed.
"The problem is that their financial stability policy options are limited."
In response to the relentless bank selling, there has been nothing but silence from the clueless Biden admin, but some reports suggest that a blanket deposit insurance is being considered, which however as we said – and Elon Musk agrees – will do nothing to contain the bank run…
🎯

— Elon Musk (@elonmusk) May 4, 2023
… as well as rumors of a short selling ban, which also will only make matters worse.
It also appears that soon regulators will start going after twitter accounts that spread rumors of failing banks, incite panic and start bank runs, and not just today but going all the way back to the first bank failure of the cycle: Silvergate.
"We believe the banks are having their GameStop-like moment, where social media is amplifying non-traditional approaches to assessing solvency," TD Cowen analyst Jaret Seiberg wrote in a note. "This creates a self-fulfilling prophecy that pressures stock prices, which then leads to more questions."
The slide comes as prominent investors including hedge fund billionaire Bill Ackman warn that stresses on the banking system are far from over. It also puts in focus concerns that policymakers need to do more to shore up smaller lenders that have suffered as the Federal Reserve raised interest rates.
Incidentally, since the deposit flight is now largely a function of rate differentials as the FDIC has made it clear any amount of deposits are insured – i.e., the rate offered by most banks is far, far below that which money market funds offer today, and depositors can easily move all their money from place A to place B in under a minute with 3 clicks on their iPhone…
The only chart you need: no regional bank can compete with the Fed/Money Markets – guarantees the deposit bank run will only get much worse pic.twitter.com/AEBZ09bhCm

— zerohedge (@zerohedge) May 2, 2023
… the only thing that can stop this crash is the Fed cutting rates… which needless to say, would be reputational suicide for the what little credibility the Fed has left as it would be the fastest reversal following a rate hike in history…
This will be the shortest rate hike in history

— zerohedge (@zerohedge) May 3, 2023
… and will immediately send all non-USD alternatives soaring to record highs, as the dedollarization conversation turns much more serious.