Impact of the Silicon Valley Bank Collapse On The US Economy and Global Gold Market Economy
As information continues to emerge and other banking institutions continue to suffer, many investors have been moving their money to safe-haven assets like gold, silver, and other precious metals to weather the economic turmoil
Investors around the globe are still feeling the reverberations from the largest failure since the 2008 financial crisis, the collapse of Silicon Valley Bank.
As information continues to emerge and other banking institutions continue to suffer, many investors have been moving their money to safe-haven assets like gold, silver, and other precious metals to weather the economic turmoil.
Keep reading to learn more about the potential ongoing impacts of the SVB collapse on the global economy and what you can do to hedge against economic instability.
What Caused The Silicon Valley Bank To Collapse?
The announcement of the bank raising a $2.25B round of capital triggered customers to quickly withdraw their funds from the Silicon Valley Bank, quickly leading to a bank run. This reaction was likely due to a lack of confidence in the bank's ability to pay back its debts and honor customer withdrawals and fears that any deposits would be at risk if the bank couldn't raise enough money through its capital-raising efforts.
This quickly resulted in the depletion of the bank's reserves and on March 10, 2023, it was shut down by the California Department of Financial Protection and Innovation. The situation was further exacerbated by SVB's earlier investment decisions when they had made an unwise choice to sell off a bond portfolio that wasn't financially performing well. This decision strained their financial resources and led them down an irreversible path toward bankruptcy.
The rising interest rates also created a difficult situation for Silicon Valley Bank, as they couldn't invest their money into high-yield, low-risk investments. This meant that the returns on their investments weren't sufficient enough to compensate for the losses caused by other factors, such as falling bond prices and increased competition in the banking sector. As a result of these issues combined, Silicon Valley Bank was eventually unable to stay afloat and collapsed under substantial mounting losses.

Get A Free Gold Coin When You Open A Gold IRA Account
Get a free gold coin when you open a Gold IRA. Act now while supplies last.
Get Your Free Coin
Economic Effects Of The Silicon Valley Bank Collapse
A bank failure does more than just close the doors and cause fund withdrawal. What people can expect to see, and what we've already seen as a result of SVB failing, includes financial burdens, the fire sale of assets, and people shifting to alternative assets.
EXTREME FINANCIAL BURDENS
The collapse of Silicon Valley Bank (SVB) has had a significant economic impact on its depositors and investors. Depositors, who were expecting to have their money available in the bank when they needed it, have instead lost their savings as bankruptcy administrators liquidate the bank's assets. Investors, who had bought shares of SVB stock or invested in other debt instruments with the expectation of making a return on their investment, have seen this capital evaporate, and any returns turn into losses.
This has created an immense financial burden for those affected individuals and businesses who must now either find alternative sources of finance or adjust to living without access to these funds.
In addition to individual hardship caused by the SVB collapse, there is also likely to be wider economic fallout from reduced consumer spending due to less disposable income being made available throughout society as people struggle with personal finances following this event.
FIRE SALE OF ASSETS
The potential sale of assets owned by Silicon Valley Bank could provide a valuable opportunity for Private Equity and Venture Capital funds. Investors may be willing to take on the risk of buying these assets at reduced prices, which can potentially lead to large profits if the investments are successful.
This activity can stimulate economic growth in certain areas as new investment opportunities become available. However, it's important to remember that there's still significant uncertainty around the future of SVB and its assets, so any investments should be made carefully after thorough due diligence has been carried out.
SHIFTING AWAY FROM TRADITIONAL INVESTMENTS
The rise in interest rates is causing investors to move away from traditional investments such as stocks and bonds, which have been volatile in recent months. This shift has caused the value of these portfolios to decrease, leaving investors looking for alternative investments with higher returns. One such investment that has grown in popularity is gold since it often retains its value despite economic uncertainty.
As a result, the Silicon Valley Bank collapse could benefit international gold prices if investors decide to invest their money into this precious metal instead of other more unstable markets.
How Does A Bank Crisis Impact The Price of Gold?
The recent collapse of the Silicon Valley Bank (SVB) has caused investors worldwide to move their assets to safe-haven investments like gold. Historically, these assets tend to perform better when traditional markets are experiencing periods of economic uncertainty, making them very attractive during a bank crisis.
Looking at other major economic events like the mortgage crisis in 2008 or Brexit in 2016, gold prices rose significantly due to heightened demand from cautious investors looking for ways to protect their wealth. It would seem that the SVB collapse is no different, with gold quickly rising to a 4-week high within days of the collapse.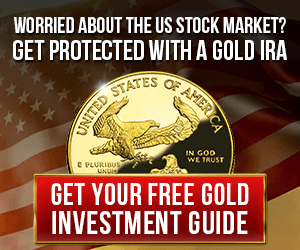 Get A Free Gold Coin When You Open A Gold IRA Account
Get a free gold coin when you open a Gold IRA. Act now while supplies last.
Get Your Free Coin
Moving Your Assets To Gold & Precious Metals
If you're considering moving some or all of your assets into precious metals before it's too late, you'll have a few options.
GOLD BARS & GOLD COINS
Buying physical bullion like gold bars and gold coins is one of the most popular ways to invest in gold. Coins and bars can range from one-ounce pieces to 400 ounces for larger investments and can be bought in various places – from licensed dealers to your corner pawn shop.
When buying gold and other precious metals, it's important that you thoroughly research the source and authenticate what you're purchasing, no matter what dealer you're working with.
How you're going to store physical gold and silver is also an important consideration. While some people may opt to keep their assets in a safety deposit box, if you're weary of banks in general, you might want to purchase a home safe. There are also dedicated gold depositories that you can look into.
GOLD IRAS
Gold IRAs are another excellent way to invest in gold, as they offer investors all of the same benefits as owning gold bars and coins but also provide tax advantages, and secure storage is included. The gold you purchase in a gold IRA is also held in trust, meaning that the assets in the IRA can't be seized by creditors as repayment for debts.
Opening a gold IRA is easy with Noble Gold Investments. You can roll over an existing IRA or 401(k) or open a new one with cash to diversify your current retirement savings.
Benefits Of Investing In Gold
Besides being an attractive accessory, gold provides multiple investment benefits to help grow your wealth long-term.
STORE OF VALUE PROPERTIES
Gold is a great asset to have in your portfolio as it's historically proven to be a reliable store of value. Its worth tends to remain constant over time, allowing you to maintain the same wealth even when other assets depreciate. The recent collapse of Silicon Valley Bank has highlighted the benefits of investing in gold, as it provides stability when other markets are struggling.
Unlike stocks or bonds, gold doesn't require any maintenance or upkeep and can provide investors with a steady source of income. Investing in physical gold provides additional security since it can't be destroyed or devalued by governments or central banks like fiat currency can. This makes gold an attractive option for those looking for long-term stability and security from their investments.
LIQUID ABILITIES
Gold is beneficial due to its liquidity, which can be easily bought and sold. This means that you can quickly convert your gold into cash when needed, making it an ideal investment for those looking for a quick return.
The fact that gold is so liquid makes it less risky than other types of investments since you're not locked into one type of asset. Investing in gold provides investors with more flexibility and greater returns over time.
HEDGE AGAINST INFLATION
Gold has traditionally been viewed as an effective hedge against inflation. This means that it may increase in price over time even when the prices of other goods or services are rising, unlike traditional investments like stocks and bonds.
This long-term protection from rising costs allows investors to preserve their purchasing power over time, making gold an attractive investment for those seeking stability amid economic uncertainty. Silicon Valley Bank's collapse might impact international gold prices, but investing in gold will still give investors many advantages.
Get A Free Gold Coin When You Open A Gold IRA Account
Get a free gold coin when you open a Gold IRA. Act now while supplies last.
Get Your Free Coin
Protect Your Wealth With A Gold IRA
If you're concerned about the potential economic fallout from the collapse of the Silicon Valley Bank and are considering moving your assets into gold and silver, Noble Gold Investments can help.